A dog trainer? …A man? ….A myth?
Who Is The Amazing Dog Training Man?
Picture this. It was July 15, 1969 and the telephone was ringing at a Detroit pizza joint. The manager answered the phone and took the caller's order. Fifteen minutes later, a delivery boy named Richard Davis hopped in his car and sped down the rain-soaked road to make the delivery. When Richard arrived at the address, he hopped out of his car as three armed men stuck a gun in his face.
A struggle ensued. Two shots were fired … POW! … … POW!
And Richard collapsed to the ground while his guts spilled into the street like gooey Brie. He survived, but the incident left him searching for a way to protect himself. Months later, Richard designed…
The first all-Kevlar, bulletproof vest!
Richard tried to sell his new vest to police and the military, but nobody believed it could stop a bullet. So here's what Richard did:
During his sales presentation, Richard would ask an audience member for their gun. He would then aim the gun at his own chest, and pull the trigger gimp kostenlosen windows 10! Petrified spectators saw that Richard's vest had in fact stopped the speeding bullet. Orders flooded in. And Richard's company (called Second Chance Body Armor) became gargantuan… until Richard eventually sold it for $45 million.
And the point to remember?
Richard was so convinced his product worked he was willing to literally "take a bullet" to prove it. He didn't ask you to believe him, he proved it.
So I could talk about all the times I've been featured in the media:
Or talk about 12.4 million views on YouTube:
Or talk about nearly 6,000 likes on Facebook:

Or talk about almost 17,000 followers on Twitter:
Or talk about my five dog training books available on Amazon:
But what is most important is what other dog owners are saying. I put these short client stories together because I don't want you to believe what I say. Anyone can talk about how great they are. The proof is in the pudding when you can hear what others say. I want you to take just a moment and see what dog owners all over Southeastern, MA and Rhode Island are saying.
But first… I'd like to take a minute and introduce myself.
Hi! I'm Eric, and I help people train their dogs.
The bottom line is I help people teach their dogs to STOP doing unacceptable behaviors (jumping, chewing, barking, etc.) and also help teach acceptable behaviors (come when called, stay, lie down etc.)
And while I'd love to tell you I raised myself from starving to studying B photoshop image editing free. F. Skinner and behavior in a top-notch college, it wouldn't be true. I never went to college.
I got my first job with dogs in 1988 working K9 Security for St. Francis Hospital in Hartford, CT. St. Francis was located just a few blocks away from some of the worst neighborhoods in the city. Car theft, muggings and fights were the norm. Having fully trained protection dogs roaming the exterior of the hospital reduced crime to almost zero.
I did that for seven years and eventually became the K9 Supervisor before I decided to leave and work as Director of Training for one of Connecticut's largest training facilities.
After a short stint there, I opened my own dog training business in 1995. Fast forward some 20 plus years and I've worked with thousands of dogs and owners, all over Southeastern, MA and Rhode Island. I've also had the opportunity to work with many area shelters. This is where the rubber hits the road. Training shelter dogs requires results. Ineffective training and the dog pays the ultimate price.
Here Is What The Executive Director And The Director Of Operations At The Potter League For Animals In Middletown, RI And Other Area Shelters Have To Say:
"I am the Director of Operations at the Potter League for Animals in Middletown, RI software downloaden op mac. Since Eric Letendre has been coming to the Potter League, we have seen an increase in adoptions and a decrease in returned dogs to the shelter. His style and great sense of humor during obedience class keeps bringing adopters back and spreading the word about positive reinforcement."
"The dogs that are adopted from the Potter League may be rescued strays or dogs that have been voluntarily surrendered for adoption. How important is obedience training? Extremely important! Eric shows you one of the best ways for you to establish a relationship with your new dog and to begin to develop a bond through obedience training. A class taught by Eric is full of positive reinforcement, lots of praise and fun for both you and your dog. We hope Eric will help us train here at Potters for a long time, helping our new adopters."
Pearl Gonzalez, Director of Operations, Potter League for Animals
"Eric has a terrific sense of humor making his classes fun and enjoyable. At the Potter League for Animals, his classes are always well-attended, with both the two legged and four legged participants learning a lot. Eric uses positive reinforcement training techniques and has a commitment to help every family understand their dog's special needs and traits."
"We see results of Eric's teaching style and commitment every day. If you want to be best friends with your dog and have the best life-long relationship with your dog, don't hesitate to take a class with Eric Letendre."
Christie Smith, Executive Director, Potter League for Animal
"The staff of the East Providence Animal Control Facility would like to extend our appreciation to you on behalf of our dog, Shady. It is not often that someone will extend themselves to a "pound puppy." Your knowledge and willingness to help has made a difference to Shady etwas isten. I am sure that he looked forward to his Saturday morning training sessions. We want to thank you very much for all you have done, caring enough to help one of our dogs. And of course, a very BIG thank you from Shady."
Jan Mitchell, Shelter Supervisor, East Providence Animal Shelter
"Eric Letendre's training style is consistent, informative and fun. If you make mistakes, he helps you correct them in a way that encourages you to keep trying. If you're looking for a positive training class that is fun for both you and your dog, I highly recommend Eric Letendre."
Sue Sullivan, Potter League For Animals, Volunteer of the Year, 2001
"Eric's years of "positive" dog training methods have remedied many behavior problems with our dogs- making them more likely to be adopted. We often recommend obedience classes with Eric to promote continuing good doggy conduct in our dogs after they find homes, to assure they remain well-mannered members of their new family. Eric has been extremely generous in donating time and much needed funds to our organization. We are grateful for all Eric does for Placing Paws."
Patty Garber, Placing Paws, Board of Directors
And Look At What Dr. Lunig Says:
"Clients we have recommended to Eric Letendre have come back with nothing but great results."
Dr. Jim Lunig, DVM – Spinnaker Veterinary Clinic, Somerset, MA
Or This Vet Tech Who Thought Her Dog Had Canine ADHD:
"I thought my dog, Kimmy, was a candidate for canine ADHD before I met Eric taschenrechner downloaden. Now, she is well-behaved, obedient and comes on command. She is also an American Kennel Club Canine Good Citizen. It is all due to the training she received with Eric."
Sara Arruda – Veterinary Technician, Anchor Animal Hospital
I Even Have One Client Who Calls Me A Therapist:
"Dear Dr. Letendre, You are not only a dog trainer, YOU ARE A THERAPIST! I can remember countless hours you have spent working with Emma. You listened to us voice our fears, dreams, hopes and concerns about her. The truth is you have always believed in her, even when we have not. Thanks for everything."
Mike & Lori Yelnosky – Tiverton, RI
Another Who Compares Me To Famous Tennis Player, John McEnroe:
"Eric knows what dogs are thinking about. It's the same gift enabling John McEnroe to be such a good tennis commentator. He knows what the players are thinking and what the players are likely to do."
"When my beagle wouldn't obey a particular command in dog school, Eric suggested the dog was confused. He said, "Your dog is thinking you meant something else." Then he would clarify the command by hand signals or voice, and it worked. We are indebted to Eric. My hyper beagle, Minnie is now normal, and so is my wife."
Bill Easman – Little Compton, RI
Cher And Me:
"Your E-zine has given new and practical information about dog (and human) behavior, as well as reinforced some of the things we learned in your classes and in speaking with you herunterladen. Matt and I know kindness towards animals pays off, and this is what makes your methods workable for people of any age. We've seen very young and very old people with very active pets attending your classes, and all we humans have benefited. Our dog, Sam, is a very different dog from when we first adopted him because of the way we learned to work with him. Also, I got over my "big dog" fear, and truly enjoy his company."
"You are well-respected and well-known and it's well-deserved. When your name came up about a month ago, I commented to someone you are kind of like Cher (I'm sure you are wondering where this is going, or maybe you've heard it before)… Lots and lots of people refer to you simply as "Eric" (no last name), and everyone knows who they are talking about. Thank you again!"
Ann Jankowski – Adamsville, RI
Help For Basset Hounds:
"Another trainer told us for the most part, Basset Hounds are not trainable. We met Eric, liked what we saw, and signed up for a class. The manner in which the training is conducted is extremely important. Dogs aren't cowering and there's no yelling. We were most impressed with the technique Eric taught us to stop our dog from jumping on people. We've shown it to every person coming to our home herunterladen metronom. We would recommend Eric Letendre to anyone seeking help with their dog and plan to take more classes."
Donna Cabral – Westport, MA
One I Helped Escape Insanity:
"Eric Letendre was recommended to me by several sources. I then decided to take a look at his website. In doing so, I signed up to receive Eric's weekly E-zine. I found the information in the E-zine to make sense, be extremely helpful, and most importantly, be achievable."
"I have two dogs with extremely different temperaments and energy levels. I find Eric's methods work equally well with both of them. Also, I have begun, and continue to be, more in tune with how my dogs think, and why they do what they do. This is a huge breakthrough, and is a concept I had not given much thought to in the past."
"What I admire most about Eric's training concepts is they apply obedience training successfully without the means of force which may ultimately harm, injure or backfire later on. It's been great to realize training may be accomplished without the owner becoming overly frustrated or completely insane."
Jen Swidey – South Dartmouth, MA
Who Said You Can't Teach An Old Dog New Tricks?
"Zeus was an adoptee and was five years old when we got him. Most recently, at the age of ten, he has completed Eric's Level 3 training install and download. It goes to show you can teach an old dog new tricks. It's been a pleasure doing business with Eric, and I never worry when Zeus is an overnight guest or a trainee."
Patti MacMillen – Westport, MA
Refreshing…
"My husband Michael and I have been practicing the training methods we learned from Eric with our two very large dogs and the results are amazing. The training techniques are gentle and patient. With all the harsh and cruel dog training methods out there, Eric's methods are highly refreshing and truly invaluable. Keep up the great work!"
Lisa Lopes – Middletown, RI
Help For A First Time Dog Owner:
"Your class and E-zine have helped me, a first-time dog owner, successfully rescue a "pound puppy" who needed serious lessons on how to act with people. Both Cody and I are grateful for your guidance, and I believe it's helped me have a better, happier experience as a dog owner. Thanks again!"
Diane Sterrett – Tiverton, RI
Let's Shift Gears And Wrap This Up:
"The above comments should give you a pretty good idea of how I can help you and your dog. If you'd like, I can send more because I have file drawers stuffed full of them. Honestly, I am not bragging, I just want you to know you are making the right decision when you choose us to help train your dog."
"I say "us" because while you'll be personally working with me, I have an incredible support team making my job easier."
Amazing Dog Training Man's Support Team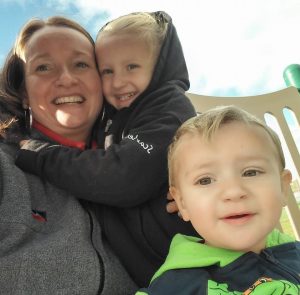 My wife, Rachael, helps with all the behind the scenes stuff which make my eyeballs hurt. Stuff like websites, paperwork and all the other little details that come with running a business. So while I may be the face of the business, she is definitely the brains you can download netflix tv series. And the critters, Scarlett and Spencer, keep things fun and interesting and even help out once in a while.
Now, before we end this little book, I'd like to just share one more quick story explaining why I call myself The Amazing Dog Training Man.
It was June of 2005 and I was about to call the police. One look at the lady who had just walked into my office and I thought she had been assaulted outside my business. She was crying, she had two black eyes and her nose was bruised. I immediately asked her if she needed help. She nodded her head, "yes," and then the water works really began. With tears rolling down her cheeks, I was ready to hear a story of some scumbag who must have punched this poor lady.
That's when she shared with me she was in this state because of her dog. Sitting across from her, I moved my hand away from the phone and asked her to explain a little further. So she shared with me her story, how her big, hyper, super friendly Labrador retriever had smashed her face just a few days before as she was getting ready to take him for a walk.
Just as she was about to walk out the door her husband asked her a question. She stopped and turned to answer him. She was almost out the front door but her big, happy lab was all the way outside bewerbungsschreiben muster herunterladen. With the leash in her hand, standing in the doorway, her Lab saw a cat across the street. His Lab brain immediately switched to chase mode and he was off, full speed ahead, towards the cat.
With the leash wrapped around her wrist, she was pulled face first into the door. Once her face was smashed against the door she fell down and was dragged a few feet before she was able to untangle herself from the leash and let go.
Now sitting across from me she was crying, not from the pain of the injury, but from the pain of losing her dog. She said walking or going anywhere with him was impossible, she had zero control and had no idea how she was going to keep him.
You wouldn't think walking a dog on leash would cause this big of a problem but it does and over the years, I've seen my share of people injured, frustrated and angry because their dogs dragged them everywhere.
Anyway, I helped this lady train her dog and just a few short weeks later she was able to walk her dog down the street with other dogs and people around. No pulling, no struggling or dragging her down the street. She was a very happy person and at our last training session she said to me:
"Your training is amazing."
I said: "Yes, amazing dog training. That is what we try to do."
"You should call yourself the Amazing Dog Training Man," she said.I chuckled and said: "Maybe I'll write a book and call it The Amazing Dog Training Man."
I did write the book and it's still available on Amazon today.
Thanks for reading!